Climate Learning Resources
Global climate change is rapidly impacting all life on earth. But impacts of climate change are complex, uneven, and worsening, with people from poverty-impacted and BIPOC communities often experiencing impacts most sharply. We must be prepared to understand and respond to climate science. Education is a vital context for building capacity for just, community-driven adaptation and resilience efforts as well as for promoting the enactment of equitable mitigation efforts around the world.

Justice-centered climate change learning is complex, but urgent. To support educators to build capacity for this work, we are creating a suite of resources focused on different aspects of this work. Climate science learning has to happen across PK-12 classroom, in informal education and outdoor contexts, and in community-based learning settings.
To that end, we have created the following kinds of resources on this page:
---
STEM Teaching Tools on Climate

STEM Teaching Tools are short, two-page briefs on particular topics in education. We have worked with collaborators to develop STEM Teaching Tools on the following themes:

Why Teach Climate Change?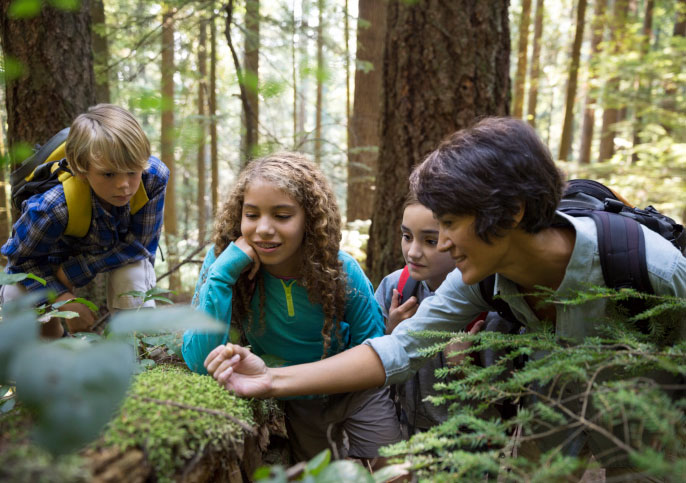 STEM Teaching Tool #12
Scientific literacy involves understanding global climate change & what people can do about it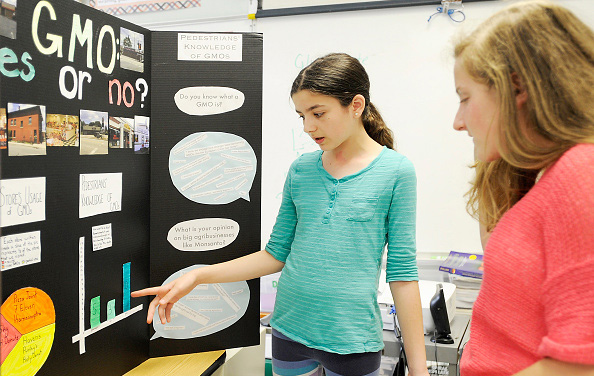 STEM Teaching Tool #44
Addressing controversial science topics in the K-12 classroom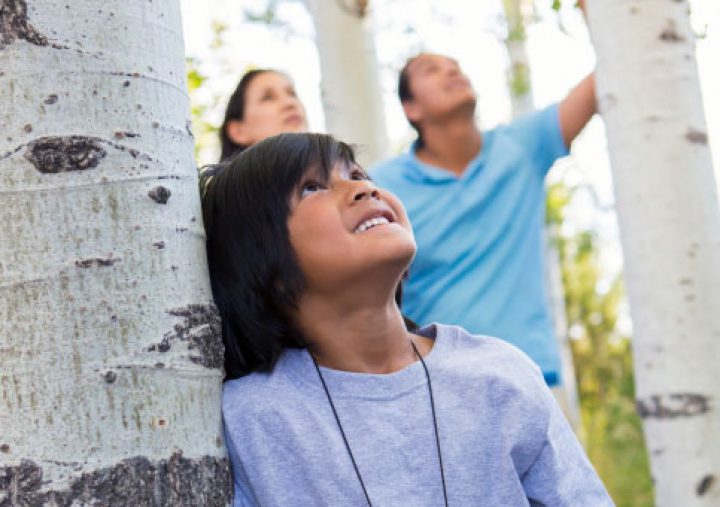 STEM Teaching Tool #10
Teaching STEM In Ways that Respect and Build Upon Indigenous Peoples' Rights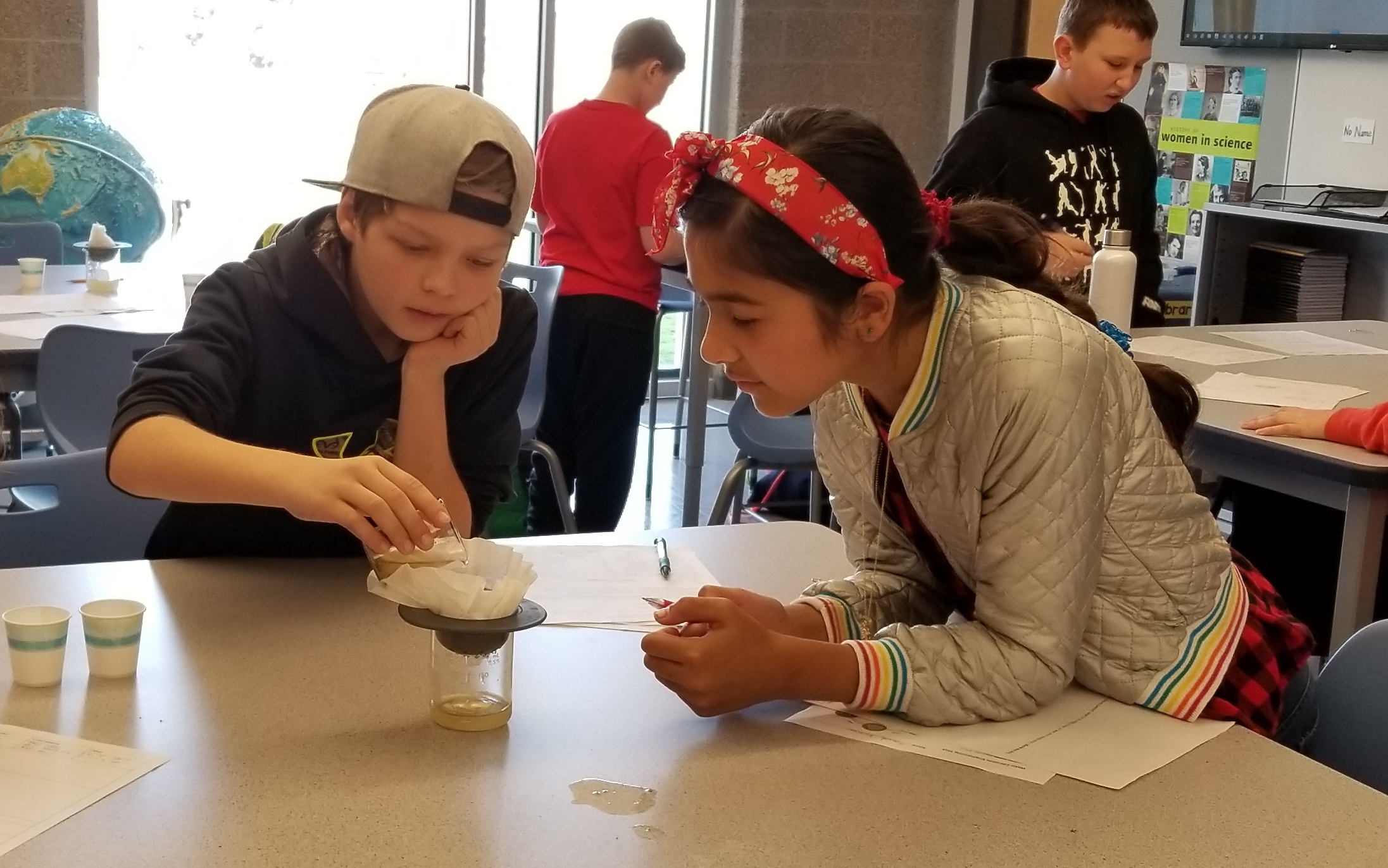 STEM Teaching Tool #78
Navigating the Political Dimensions of Climate Change Teaching and Learning

Pedagogy with a Foundation of Justice and Ecological Caring
STEM Teaching Tool #70
How can environmental educators practice intersectional environmentalism?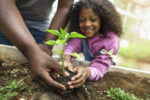 STEM Teaching Tool #80
How to productively reframe eco-anxiety as a science communicator or educator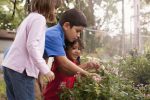 STEM Teaching Tool #61
Using science investigations to develop caring practices for social-ecological systems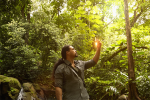 STEM Teaching Tool #55
Why it is crucial to make cultural diversity visible in STEM education?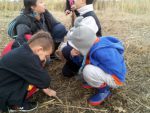 STEM Teaching Tool #11
Implementing Meaningful STEM Education with Indigenous Students & Families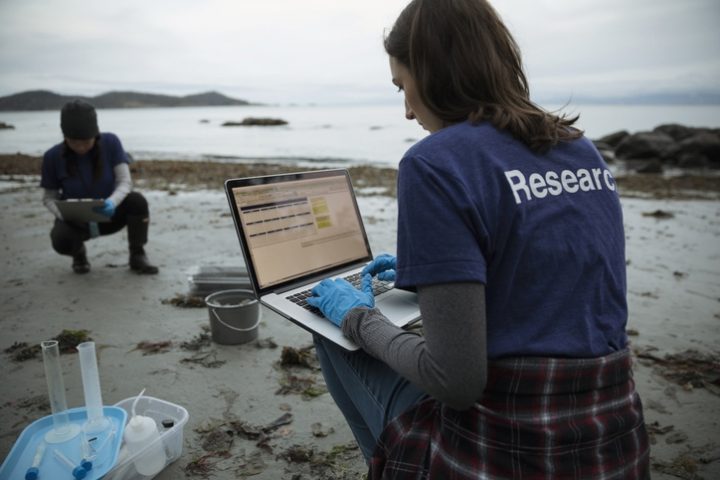 STEM Teaching Tool #57
How place-based science education strategies can support equity for students, teachers, and communities

STEM Teaching Tool #71
How can you advance equity and justice through science teaching?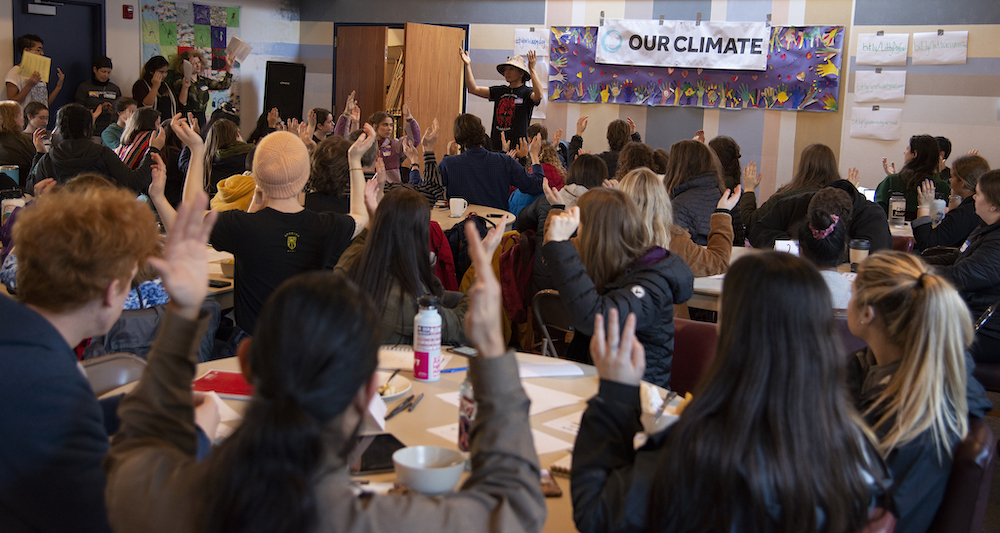 STEM Teaching Tool #84
Let's Talk Climate! Bridging Climate Justice Learning and Action Across School, Home, and Community

Selecting Justice-Centered, Local Anchor Phenomena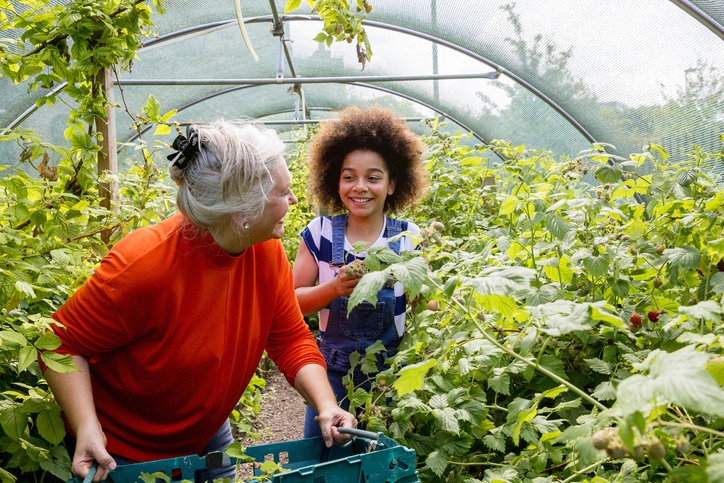 STEM Teaching Tool #67
Focusing Science and Engineering Learning on Justice-Centered Phenomena across PK-12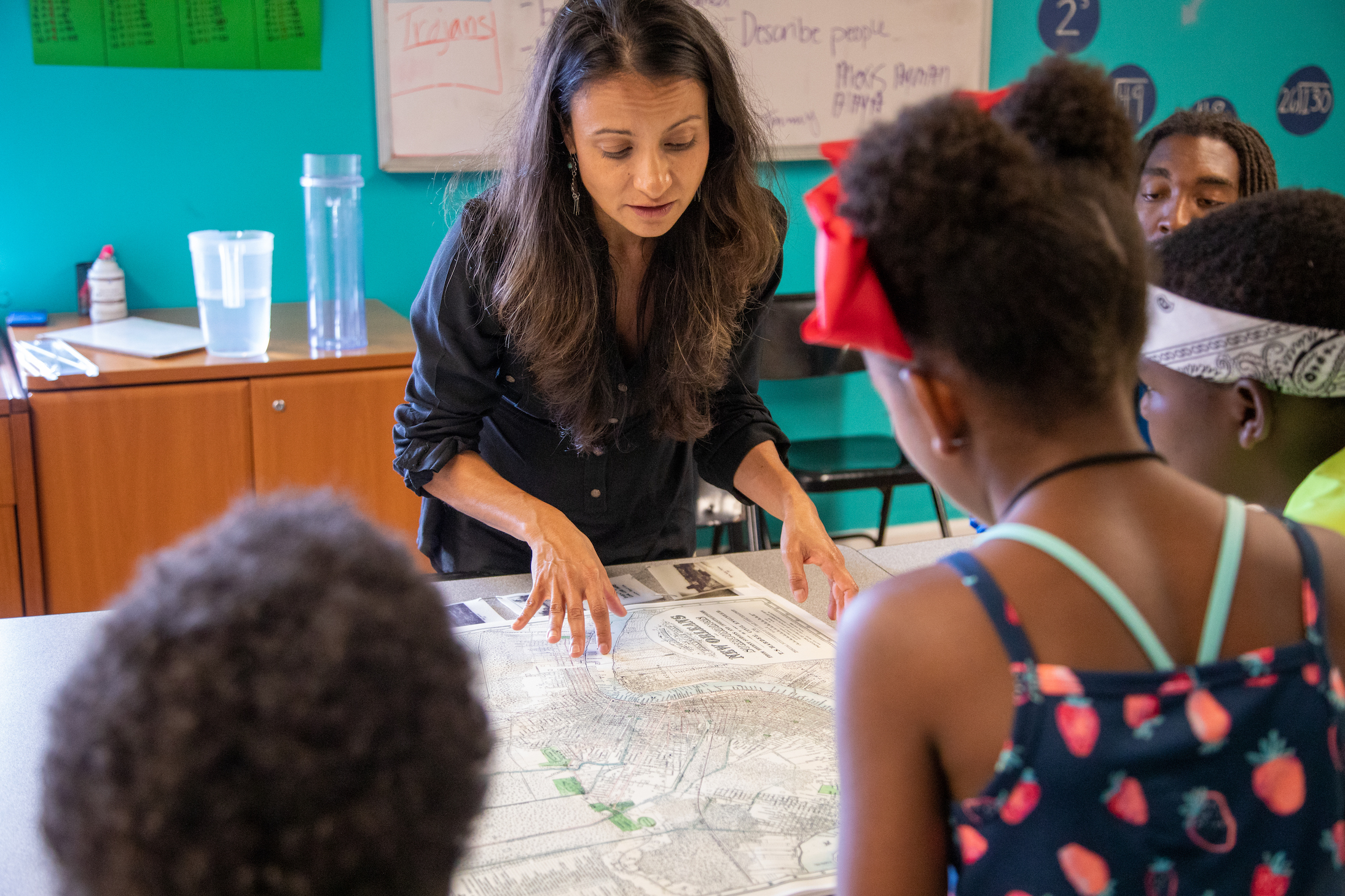 STEM Teaching Tool #69
Using Local Phenomena to Communicate Climate Solutions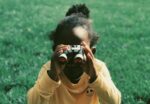 STEM Teaching Tool #87
Identifying local environmental justice phenomena for science and engineering investigations




Focusing Climate Change Learning on Solutions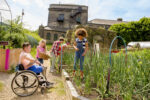 STEM Teaching Tool #68
Keeping Climate Science Learning and Instruction Focused on Creating Solutions and Building Community Resilience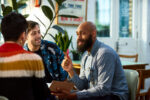 STEM Teaching Tool #73
Connecting science instruction to neighborhood life through collaborative design with community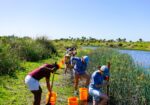 STEM Teaching Tool #90
Designing Climate Change Learning for Action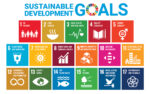 STEM Teaching Tool #93
Think globally, act locally: Promote the Sustainable Development Goals (SDGs) through community-centered learning




Building Partnerships with Scientists, Families, and Other Community Members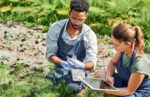 STEM Teaching Tool #74
Designing and participating in community and citizen science efforts to support equity and justice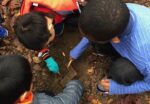 STEM Teaching Tool #77
Building Family-Centered Models for Science Education through Learning in Places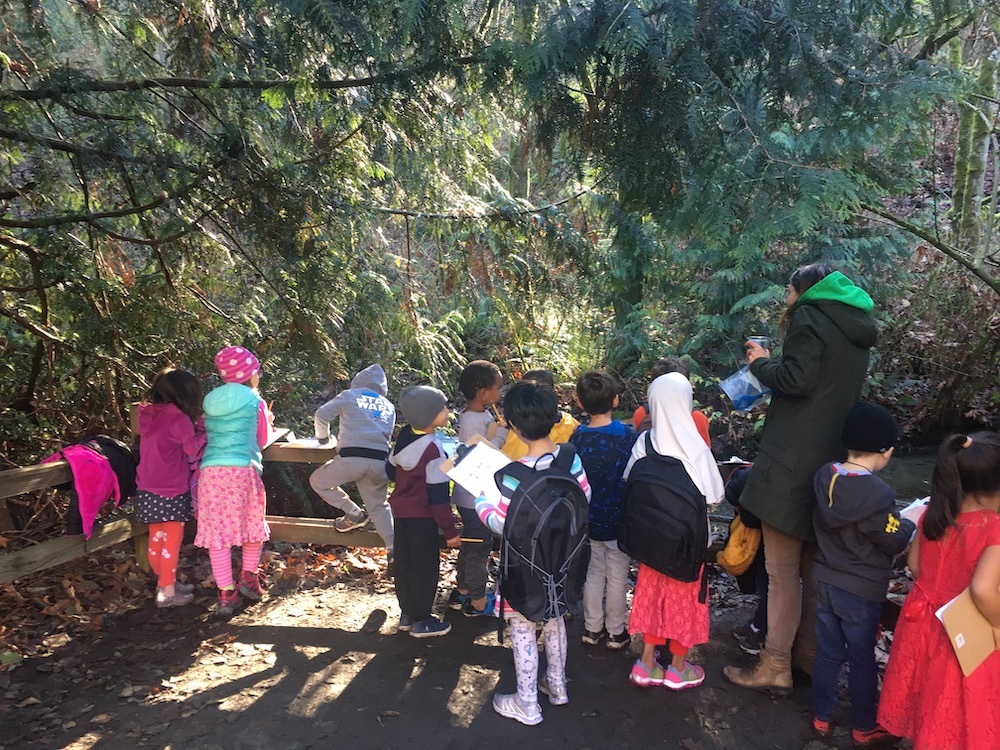 STEM Teaching Tool #82
Supporting observations, wonderings, systems thinking & "Should We" deliberations through Learning in Places


---
The Climate Teacher Education Collaborative
The STEM Teaching Tools team at UW Seattle runs the Climate Teacher Education Collaborative, a network building resources and capacity to teach about community climate justice projects and civic response to the climate crisis in teacher education programs. The initiative is hosting webinars and events; engaging small collaborative teams in developing open education resources (OER) for use in teacher education; and developing educative case studies of community climate responses. Follow the project on Twitter at @ClimateEdTools and explore resources below!

Webinars
Sept. 2022: Using Theatrical Performance to Promote Climate Justice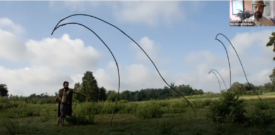 The September 2022 Climate Teacher Ed Webinar featured Nick Slie, the Co-Artistic Director of Mondo Bizarro and a New Orleans born performer, producer, and cultural organizer. Nick share work from multiple projects that take an intersectional arts-science approach to highlight issues of climate justice in the Mississippi Delta region of the U.S. He draws in examples from science- and arts-based water literacy instruction that is foundationally centered in climate justice, including the Invisible Rivers and the Cry You One projects.
Aug. 2022: Community Climate Justice Education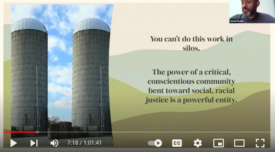 In the August 2022 Climate Teacher Ed webinar, Jason Foster and Ayesha T. Qazi-Lampert discuss the power of teaching about the environment and climate using community-centered, racial justice pedagogy. Drawing from their experiences working in the Chicago Public School System, Jason and Ayesha share resources that connect teachers with environmental current events happening in their own neighborhoods, and they encourage educators to forge connections with each other and with community members. They highlight the importance of decolonizing biases, learning the history of environmental justice, communicating about justice issues broadly, and developing a critical lens that is interconnected, interdisciplinary, and intergenerational.

July 2022: Sustaining Community-School Relationships Around Shared Visions of Climate Justice & Science Ed.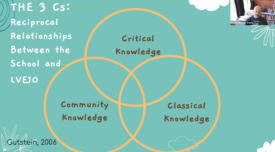 In the July 2022 Climate Teacher Ed webinar, David Segura, Danny Morales-Doyle, Karen Salas, Amy Levingston and Susan Nelson describe how a long-term community-school partnership has been able to focus curriculum and social action on environmental justice issues. They share the history of the partnership, the frameworks for justice-focused science education they use, multiple justice-centered curricular examples tied to youth-community action, and guidance on how to take up this inspiring work. There is so much to learn from this work!


June 2022: (W)holistic Science Pedagogy and Climate Justice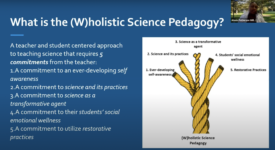 In the June 2022 Climate Teacher Ed Webinar, Dr. Alexis Patterson Williams and Dr. Salina Gray discuss their (W)holistic Science Pedagogy framework and share two climate justice curriculum examples. Their approach centers intentional self-work and emotional reflection by educators, engages students in a broad image of science and supports them in taking justice-centered action on climate. They describe the power of focusing instruction on the UN Sustainable Development Goals and share a broad range of supporting resources.
May 2022: Teaching for Climate Justice and Student Action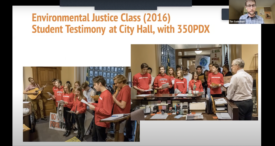 The May 2022 Climate Teacher Ed Webinar featured Tim Swinehart, a Geography and Environmental Justice teacher at Lincoln High School and a teacher candidate instructor at the Lewis and Clark Graduate School of Education, in Portland, Oregon. In this webinar, Tim highlights multidisciplinary ways of engaging high school youth in different forms of climate justice efforts – from public literary performances to crafting educational policy to direct political action. He describes how educators can take up a justice-centered climate approach in their teaching and inspire students to get involved in community action and activism. Tim shares details about his deep expertise with environmental activism in the classroom and shares resources for engaging youth in different kinds of action on climate justice.

April 2022: It's Not Only About the Content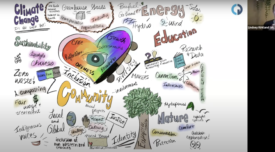 This webinar from April 2022 features Lindsey Kirkland, senior climate change education manager for Climate Generation. In her work, Lindsey designs justice-centered climate change education programs for the public and professional development for K-12 educators. In this webinar, she describes the organization's more recent work to build deep, justice-centered regional networks for teacher learning. She also discusses the power of storytelling to build understanding, empathy and relationships, telling stories from her own journey toward anti-racism in climate justice work.

March 2022: Leveraging Environmental Justice to Unlock the Potential of Education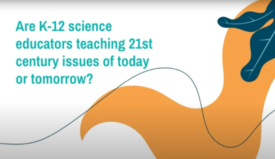 The March 2022 Climate Teacher Ed Webinar features Drs. Kelley Lê and Juan Manuel Rubio (both from University of California Irvine), who share their educational efforts connecting environmental justice, history, science, and civic action. They trace how a local community has been investigating and taking action in response to a history of soil pollution—and how educators can bring that kind of socio-scientific topic into secondary science instruction. They discuss how science and science education need to be reframed in order to focus on working towards justice.

Feb. 2022: Pedagogical Commitments for Climate Justice Education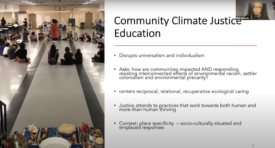 This video features the work of Dr. Fikile Nxumalo (University of Toronto) and Pablo Montes PhC (University of Texas at Austin), who focus on place-based, environmental justice-focused approaches to early childhood education working from Indigenous knowledges and Black feminist geographies. Dr. Nxumalo and Mr. Montes described educational examples from their efforts and offer guidance for educators and teacher educators based on their article "Pedagogical Commitments for Climate Justice Education" (published recently in the NSTA Connected Science Learning journal) which focuses on anti-coloniality, radical relationality, and reciprocity.
Climate Justice Lesson Plans for Preservice Teacher Educators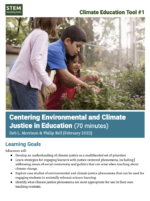 Centering Environmental and Climate Justice in Education
By Deb L. Morrison & Philip Bell
In this lesson, preservice teachers will develop an understanding of climate justice as multifaceted, learn strategies for identifying and engaging learners with justice-centered phenomena, and explore case studies of environmental and climate justice phenomena.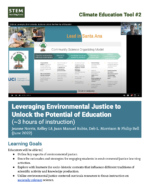 Leveraging Environmental Justice to Unlock the Potential of Education
By Jeanne Norris, Kelley Lê, Juan Manuel Rubio, Deb L. Morrison & Philip Bell
In this lesson, preservice teachers learn to define key aspects of environmental justice, describe rationales and strategies for engaging students in environmental justice learning activities, explore with learners the socio-historic contexts that influence different traditions of scientific activity and knowledge production, and use environmental justice-centered curricula resources to focus instruction on societally relevant science.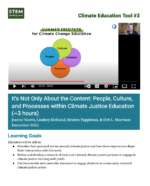 It's Not Only About the Content: People, Culture, and Processes within Climate Justice Education
By Jeanne Norris, Lindsey Kirkland, Kristen Poppleton, & Deb L. Morrison
This lesson supports preservice teachers to describe their personal stories around climate justice and reflect on how these experiences shape their work. Then, the tool helps them define and develop a network of local and national climate justice partners to engage in climate justice learning with youth.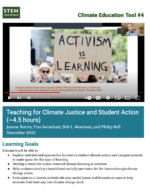 Teaching for Climate Justice and Student Action
By Jeanne Norris, Tim Swinehart, Deb L. Morrison, & Philip Bell
This tool for preservice educators helps them focus on student climate action, learning about instructional approaches and how to navigate systems to make space for this type of learning.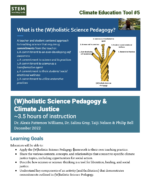 (W)holistic Science Pedagogy &
Climate Justice
By Dr. Alexis Patterson Williams, Dr. Salina Gray, Taiji Nelson & Philip Bell
This PD session helps preservice educators apply the (W)holistic Science Pedagogy framework to their own teaching, with a focus on climate justice learning for social action, liberation, and healing.


Using Theatrical Performance to Promote Climate Justice
By Jeanne Norris, Nick Slie, and Deb L. Morrison
This PD session helps preservice educators explore ways to add the arts and center place-connections into their own work in climate justice learning.
---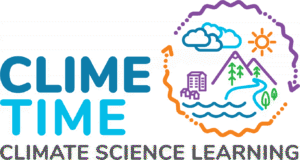 3D Assessment Examples for Climate Science Learning
In collaboration with the ClimeTime Initiative, we have created a shared Google Drive folder with assessments designed to support climate change science teaching and learning. These assessments are intended to support educators in understanding the nature of equitable assessment practices in the context of climate science learning across a range of grade levels and topics. The ClimeTime Initiative Assessment Project has further details.

Access the full folder here or individual assessments below.


Elementary School
Middle School
High School
Plus, the folder includes templates for these assessments that you can download and use to create your own.
---
Climate & Environmental Justice in Education Graduate-Level Course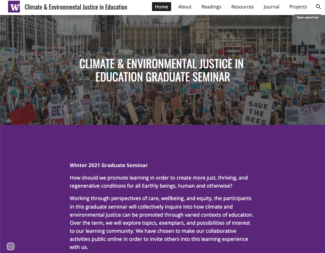 How can we learn to create a more just world where all humans and other creatures can thrive?
This winter, team members Philip Bell and Nancy Price taught a course at the University of Washington on climate and environmental justice in education. They shared the course description, readings, resources, and more on their site, which you can access for free.
Explore how themes of ecological care, multispecies wellbeing, and equity relate to climate and environmental education. Check out the graduate seminar online here, and join the inquiry on Twitter at #UWClimateEd.
---
Research Briefs: Communicating Climate Change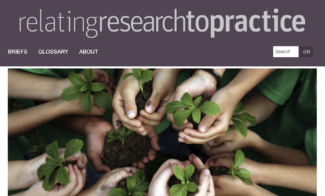 The Relating Research to Practice project developed 14 research briefs to summarize and clarify research on communicating climate change. Access briefs on topics like trusted scientific sources, the relationship between beliefs and action , and using story in science communication.
Read all the Relating Research to Practice briefs on communicating climate change.
---
Climate and Environmental Education Articles for Educators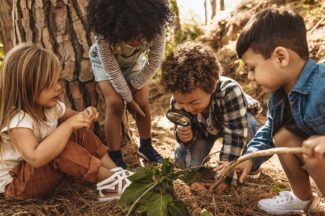 Designing for Future Action: How STEAM Programming Can Support Youth Engagement in Community Changemaking Projects, Connected Science Learning January-Feburary 2022
By Mairéad Hurley, Abby Rhinehart, Philip Bell, Autumn Brown, Nancy Price, and Joseph Roche
Climate Change Issue of Connected Science Learning, September-October 2021, featuring:
Social Justice in the Science Classroom, Next Gen Navigator, May 2020, featuring: